We are very satisfied with our beautiful dog!
Callie has been growing big..fast..she is the kindest, smartest, most gentle dog I have ever met!
We just love her!
~ Vicki L.
Jeanette,
We changed Hailey's name to Bella, as she is just so beautiful and sweet! She is adjusting well to her new family. She chases our Newfoundland around the house, and they play really cute in the snow!
I am sending you a copy of her vet visit, which went well. Our vet and his staff thought she was just adorable.
Thank you for giving us such a great puppy!
~ Renee' C.
Hi Jeanette! Jim and I adopted "Blitzen" in December 2011 and by the way, he is amazing!! He has a VERY happy home and is spoiled rotten :). ~ Jennifer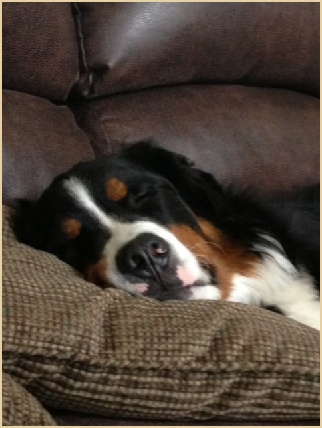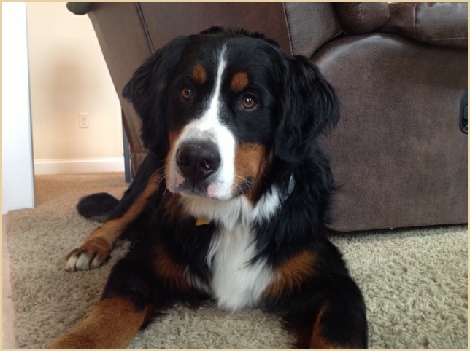 Hi Jeanette,


My Kingston ('Preston') is doing great and we love him to death. He has been a wonderful addition to our family and we thank you for making that possible!
Sincerely,
Shaina

Hello Jeanette,

I know it has taken me some time to get a picture to you, but attached is a picture of Coco (Holly) from the liter of October 23, 2011. I sent this particular picture because it is Coco with her best friend, Colby. Hysterical! They truly are best friends. He has sleep overs and they take walks together almost daily.

We absolutely love her to pieces. We could not have asked for a better companion for our family. She is known throughout the entire neighborhood and all the kids love her at the bus stop and she is so good with them. And, our vet fell in love with her too. In fact, he asked for your website information as he is looking to get a Berner in the future.

Thank you for our beautiful Coco!
Patty

Jeanette,
Lily "Noel" is doing great. She really loves her new family. We take her everywhere and she loves to play with the kids. Thank you so much for everything. She had her first check up and I the doctor and staff fell in love with her. I will forward a copy of her check up to you. Once again thank you from the whole family. Here's a few pictures for you.
Alex